Urenco receives excellent rating from Carbon Disclosure Project
14 December 2021
Urenco's first climate submission to the Carbon Disclosure Project (CDP) has exceeded expectations, scoring highly on a range of issues that CDP assess companies against, which fall under the categories of climate, water security and forest related performance.
The CDP ratings range from A to D-, and Urenco achieved a first-time score of B-, an excellent result that is the equivalent of acting at a "Management" level for environmental stewardship; the second highest of four levels.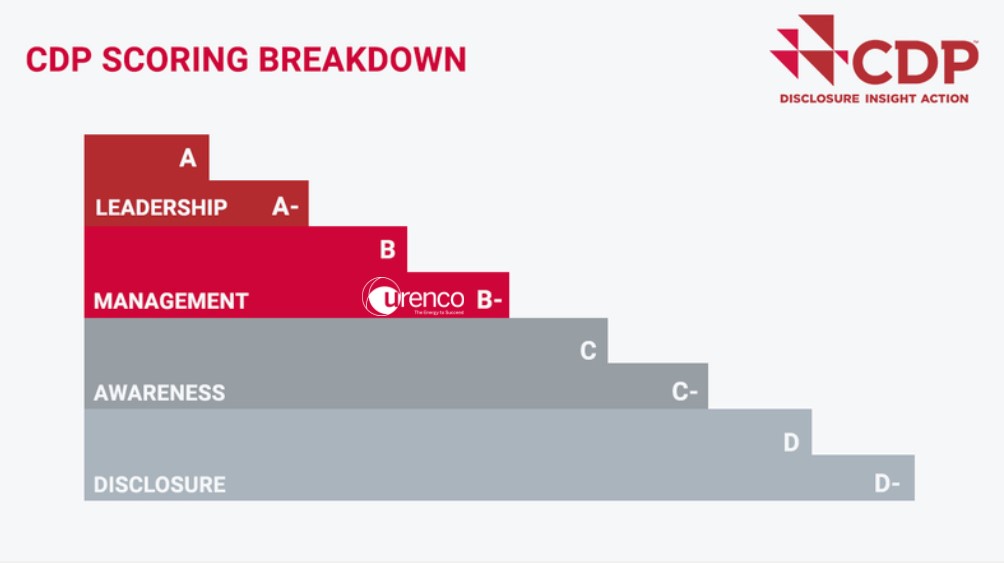 Dave Sexton, our Chief Operating Officer, comments:
"Normally for initial submittals like ours, an expected grade is closer to C or D as companies are just beginning their net zero programme. The fact that Urenco's initial rating is so high is reflective of the dedication everyone demonstrates regarding our environmental impact. This includes both our past and current actions to minimise our greenhouse gas emissions and save energy."
By disclosing our 2020 environmental data to the CDP, which included our carbon performance, climate risks and mitigation, targets and examples of our energy policy engagement work, we can benchmark our performance among nearly 12,000 other scored companies. As a global, publicly available database, the CDP rating acts as a credible standard that customers, financial lenders and creditors can use in their decisions surrounding Urenco.
CDP submissions are one of the numerous steps being taken within our refreshed sustainability strategy at Urenco to achieve our goal of net zero carbon in advance of 2040. There is room to improve our CDP rank to a "Leadership" level score as our net zero roadmap develops, including science-aligned emissions reduction targets, covering our Scope 3 emissions as well as Scopes 1 and 2.
Going forward, we will continue to submit annual updates to the CDP, to transparently and publicly demonstrate our commitment and progress on our journey towards net zero carbon.
About Urenco
Urenco is an international supplier of enrichment services and fuel cycle products with sustainability at the core of its business. Operating in a pivotal area of the nuclear fuel supply chain for 50 years, Urenco facilitates zero carbon electricity generation for consumers around the world.
With its head office near London, UK, Urenco's global presence ensures diversity and security of supply for customers through enrichment facilities in Germany, the Netherlands, the UK and the USA. Using centrifuge technology designed and developed by Urenco, and through the expertise of our people, the Urenco Group provides safe, cost effective and reliable services; operating within a framework of high environmental, social and governance standards, complementing international safeguards.
Urenco is committed to continued investment in the responsible management of nuclear materials; innovation activities with clear sustainability benefits, such as nuclear medicine, industrial efficiency and research; and nurturing the next generation of scientists and engineers.