STEM teaching partnership to benefit thousands of school pupils
06 May 2022
A nuclear company has become the first to support STEM education through a teaching provider in a partnership that will serve the most disadvantaged communities in England.
Urenco is partnering with education charity Teach First to support the recruitment, placement and training of over 40 STEM (Science, Technology, Engineering, and Maths) teachers in schools.
These teachers will reach up to 10,000 secondary school pupils across our three-year partnership, helping thousands of young people from disadvantaged backgrounds to reach their full potential.
Urenco and Teach First's social investment partnership comes as part of our wider sustainability strategy to engage with communities, enrich STEM education and provide opportunities for all. The Teach First trainees that our funding will support are key to helping us deliver this.
Where possible, these teachers will be placed in schools close to Urenco's UK sites. However, we recognise the bigger picture of improving STEM education in schools where it's needed most.
Michael Bryant, Partnership Lea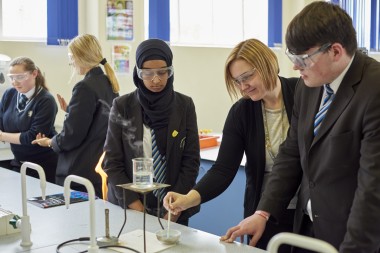 d for Urenco, said: "We're proud to be the first nuclear company to support STEM education through Teach First, an established and respected route to encourage and develop a more diverse and inclusive pipeline of future STEM professionals.
"Through our social investment programme we will enable Teach First to train and develop 45 new STEM teachers over a three year period, as well as creating volunteering opportunities for us to engage with schools."

As a company, Urenco is committed to nurturing the next generation of scientists and engineers through STEM education, encouraging them to consider the civil nuclear industry as a viable career path. Last year, in spite of the pandemic, we reached an estimated 57,000 children through STEM initiatives at our four enrichment plants. We're excited to have the Teach First partnership sitting alongside our existing education programme.
Jess McClymont, Head of Corporate Partnerships at Teach First, said: "Our country continues to struggle to find enough great STEM teachers to inspire the next generation. And it is the schools serving the most disadvantaged communities that are more likely to be affected by this shortage.
"We're delighted to be working with Urenco to plug this gap and recruit more outstanding STEM teachers into the schools that need them most. We believe our partnership will positively impact thousands of pupils, inspiring and developing the STEM pioneers of the future."
Teach First is an education charity fighting to make the education system work for every child. As a leading teacher training provider, it champions schools facing the biggest challenges by developing school leaders and plugging them into supportive networks, so that schools and pupils can thrive.
The charity has now recruited over 18,000 teachers and leaders, has over 95 head teachers in their Training Programme alumni, and has supported over a million pupils.

About Urenco
Urenco is an international supplier of enrichment services and fuel cycle products with sustainability at the core of its business. Operating in a pivotal area of the nuclear fuel supply chain for 50 years, Urenco facilitates zero carbon electricity generation for consumers around the world.
With its head office near London, UK, Urenco's global presence ensures diversity and security of supply for customers through enrichment facilities in Germany, the Netherlands, the UK and the USA. Using centrifuge technology designed and developed by Urenco, and through the expertise of our people, the Urenco Group provides safe, cost effective and reliable services; operating within a framework of high environmental, social and governance standards, complementing international safeguards.
Urenco is committed to continued investment in the responsible management of nuclear materials; innovation activities with clear sustainability benefits, such as nuclear medicine, industrial efficiency and research; and nurturing the next generation of scientists and engineers.