Engineering sustainability - World Engineering Day 2022
04 March 2022
Today Urenco is marking World Engineering Day for Sustainable Development by highlighting the work of our engineers involved in creating a more sustainable world. Here we talk to four of them.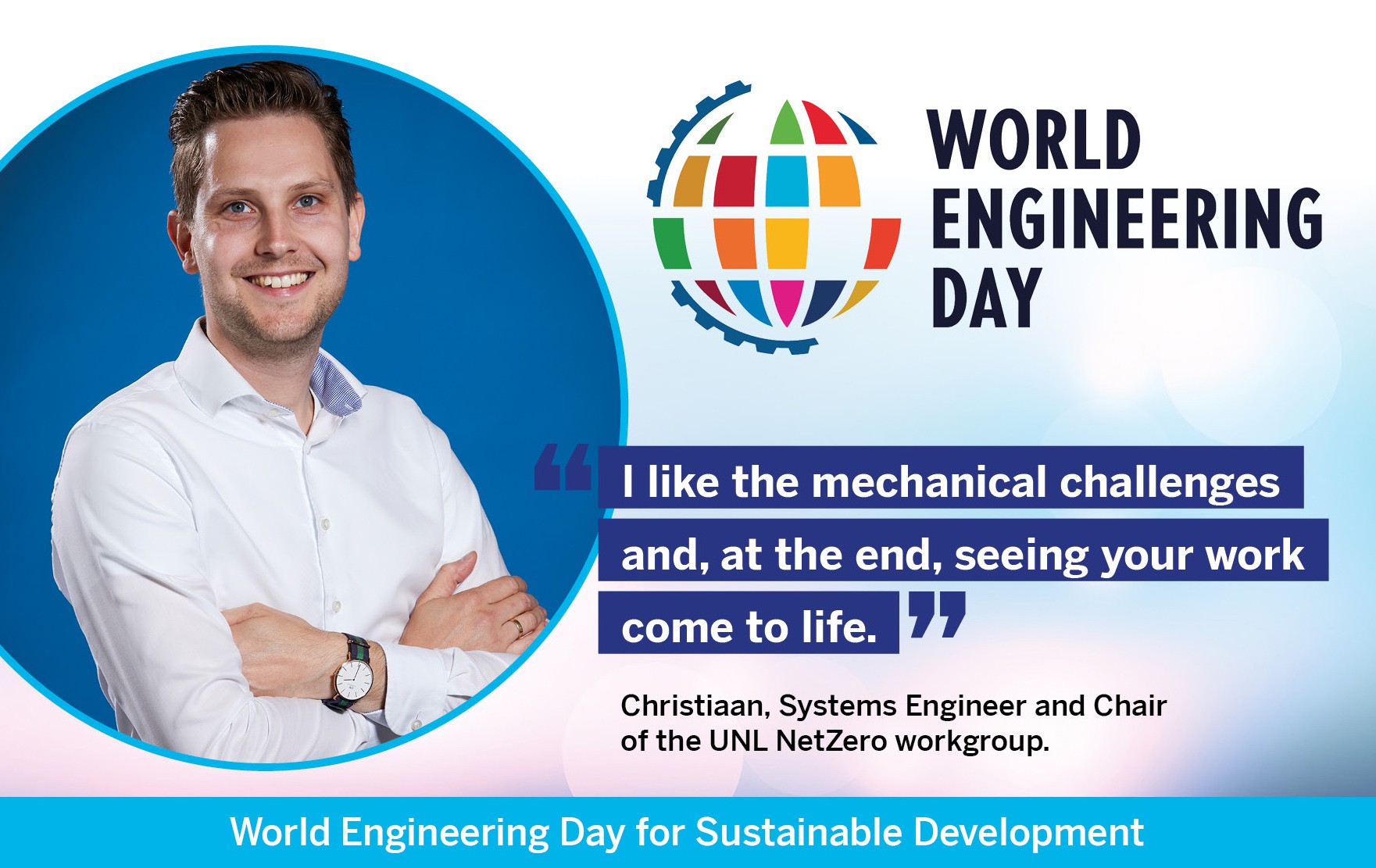 Christiaan's day job at UNL (Urenco Nederland) is a System Engineer. He's concerned with the power supply at the Almelo facility, checking and advising on the design and installation of electrical systems. "We make sure everything aligns with the standards that we have, and the first priority is that we have a safe design," Christiaan said.
But Christiaan's also concerned with sustainability, and his second job is as the Chair of UNL's NetZero working group. This involves things like analysing energy usage around the site with colleagues, and coming up with ideas to reduce consumption. It's then about introducing those ideas to bring about cultural change in the way the workforce behaves.
"Getting the data is one thing," said Christiaan. "But then you have to get useful information out of it. You have to know how the plant works, and how our systems operate."
The work of the NetZero group is already reaping benefits, too. An intelligent lighting system with motion sensors was introduced to the facility, and it resulted in the workforce's usage of lights dropping by 96 percent.
"I was quite shocked by that one," Christiaan said. "I was so happy at the result, but it was also a heads-up because it shows we have to change the behaviour of people too. Many people, in general, will just leave the lights on."
Bringing engineering and sustainability together is something that invigorates Christiaan.
He said: "It really helps that senior management are taking the issue so seriously.
"As an engineer, you have to work on challenging business needs and being at the forefront of creating something new. I like the mechanical challenges and, at the end, seeing your work come to life and the benefits it can bring the business.
"I often can't switch off – in my head anyway, and when I get home I do things around the house, too. A good engineer is always an engineer."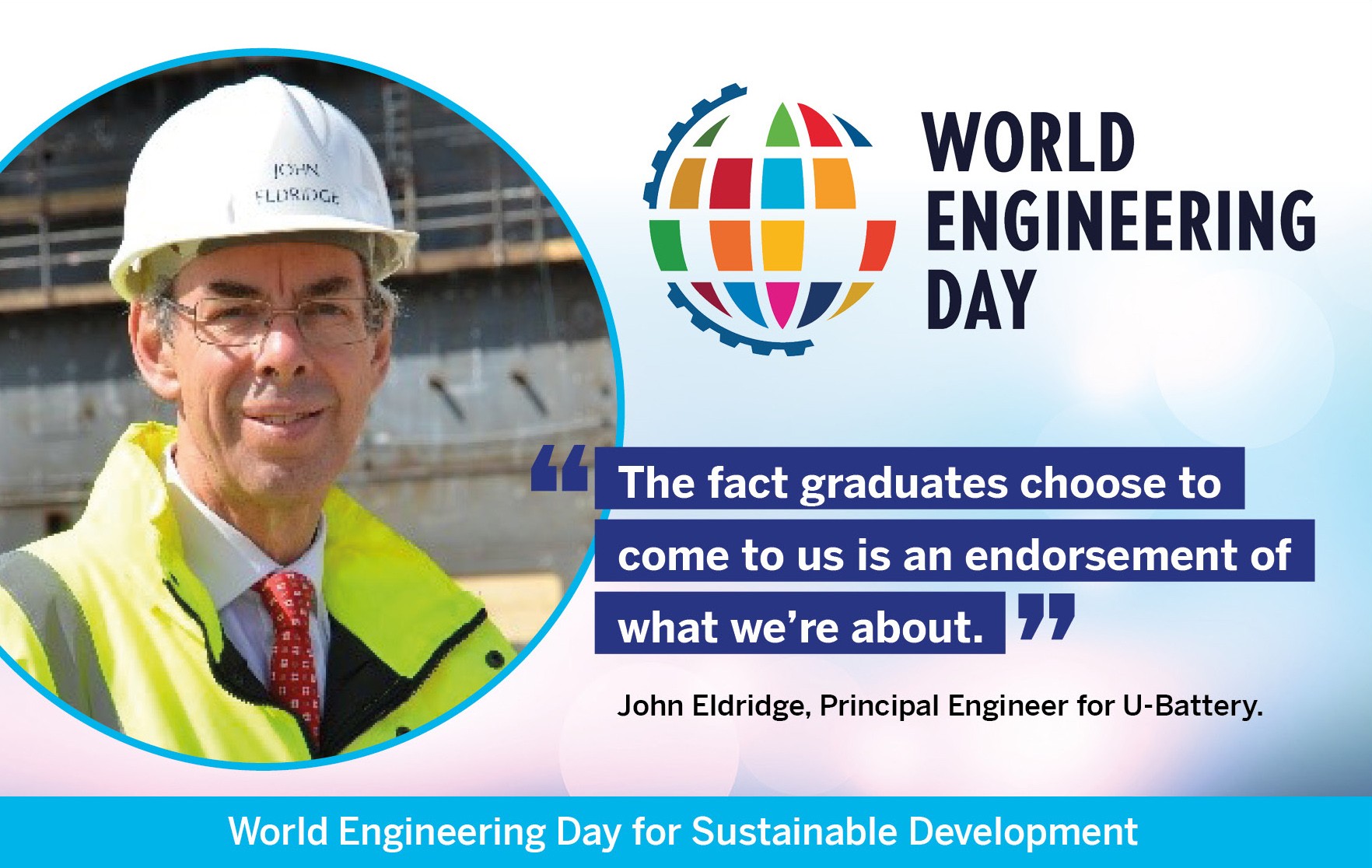 John is the Principal Engineer for Urenco's U-Battery project, the advanced modular reactor (AMR) that can provide low-carbon, cost effective and locally embedded energy to power-intensive industries.
Currently under development, the U-Battery could also be adapted for hydrogen production, increasing its contribution to the UK's net zero push.
"I'm responsible for whatever is cold," John explains. "The hot physics side of things comes under my colleague Tim Abram.
"My interest is ensuring we have a machine we can build in an economical fashion, to ensure it's a safe, deliverable and practical solution."
Having had a rewarding career of more than 40 years, John is now a Fellow of the Royal Academy of Engineering, and a Visiting Professor at the University of Liverpool.
And having been involved in renewables decades earlier, he's passionate about the potential of U-Battery.
He said: "I'm an engineer – my first priority is to people, my second to the environment, and the third is to my employer.
"I was seconded to the (former) Department for Trade and Industry (DTI) in the 1990s to look at renewables as a potential opportunity for the UK.
"Wind energy was the top of the agenda then. In the end, the solutions to many of our problems have to come from engineers."
John went through the chartered route to becoming an engineer, starting off with an apprenticeship whilst still a 16 year old teenager. His stops along the way included the former Science Research Council, the UK Atomic Energy Authority (UKAEA) and British Nuclear Fuels Ltd.
That's why he takes the mentoring of his U-Battery graduates so seriously. In fact, over the course of the last 20 years as a whole, he believes he's mentored up to 40 young engineers from apprenticeship and graduate pathways.
"It's my way of giving something back," he said. "The fact they choose to come to us is an endorsement of what we're about. It's a fantastic way of setting them up for their future careers."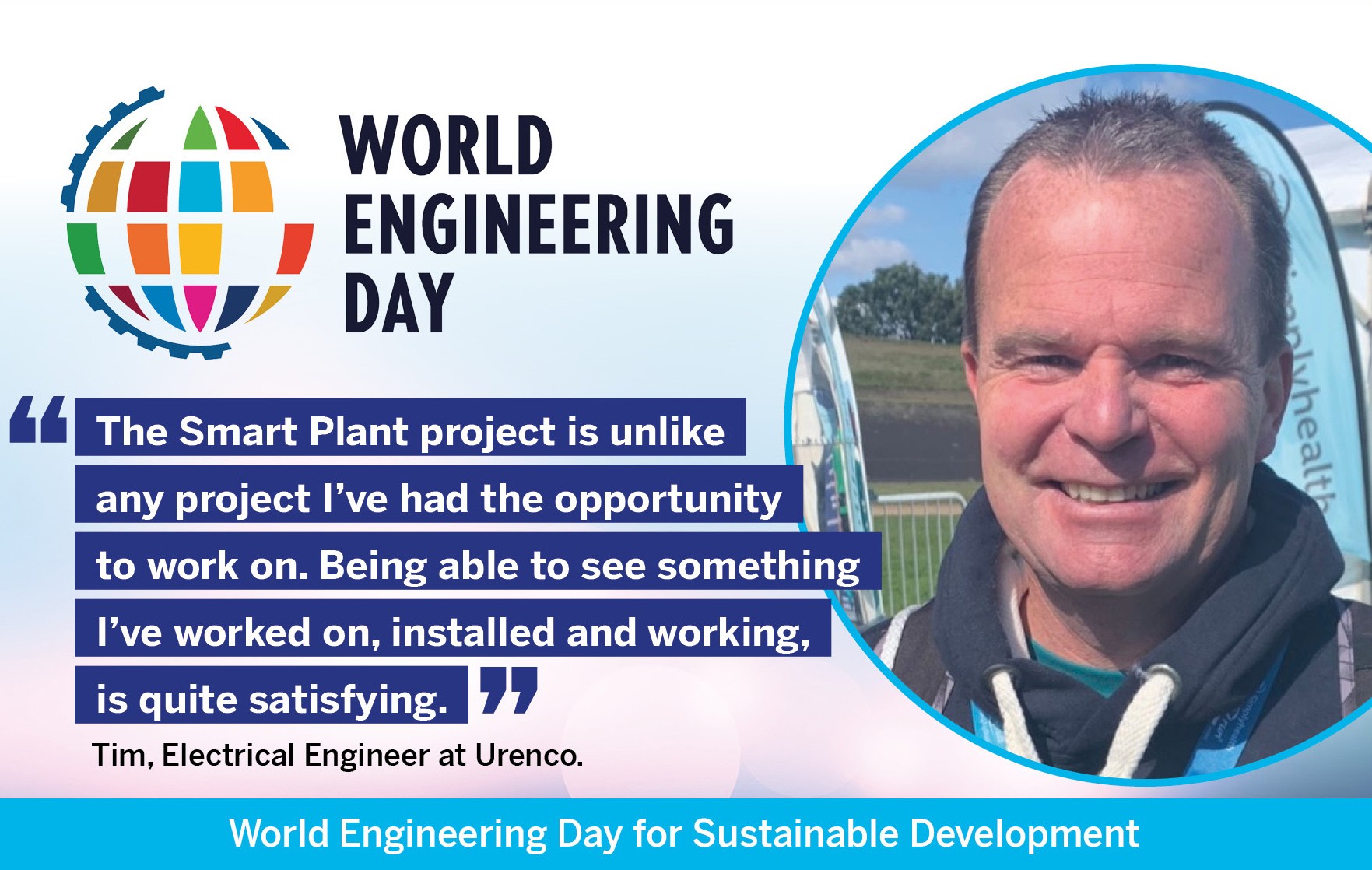 Tim is an Electrical Engineer working in Urenco's Electrical Distribution team. Together they look after the electrical network at our Capenhurst site, which supplies power to the enrichment plants, Tails Management Facility and Urenco Nuclear Stewardship.
Tim's role is varied, so one day he could be working on the network's maintenance and the next he could be working on Urenco's 'Smart Plant' project.
The idea of the Smart Plant is to create an automated system that monitors power usage from Capenhurst's machinery and devices. This makes the data more easily available and can highlight areas where electricity consumption can be reduced. Tim is involved in designing and coordinating the mechanisms needed to export this data from a huge variety of systems.
"The Smart Plant project is unlike any project I've had the opportunity to work on," Tim said. "Being able to see something I've worked on, installed and working, is quite satisfying."
Tim also helps to bring in new equipment to improve energy efficiency. He recently led a project to replace an old distribution transformer (which is used to step down the supply voltage level), which resulted in 10% improved efficiency.
Tim explained he had been lucky to have people providing him the opportunities and guidance to carve out his 30 year-long career in engineering. He came from a family of nurses, but his love of maths, physics and engineering at school saw him break the mould and take an engineering apprenticeship, where his supervisor fought to take him on as an engineer. Later, another manager encouraged him to study for a degree, with the added bonus of funding it.
"I guess without this support, I may not have become an engineer or been able to contribute towards a sustainable world through these energy reduction initiatives at Urenco."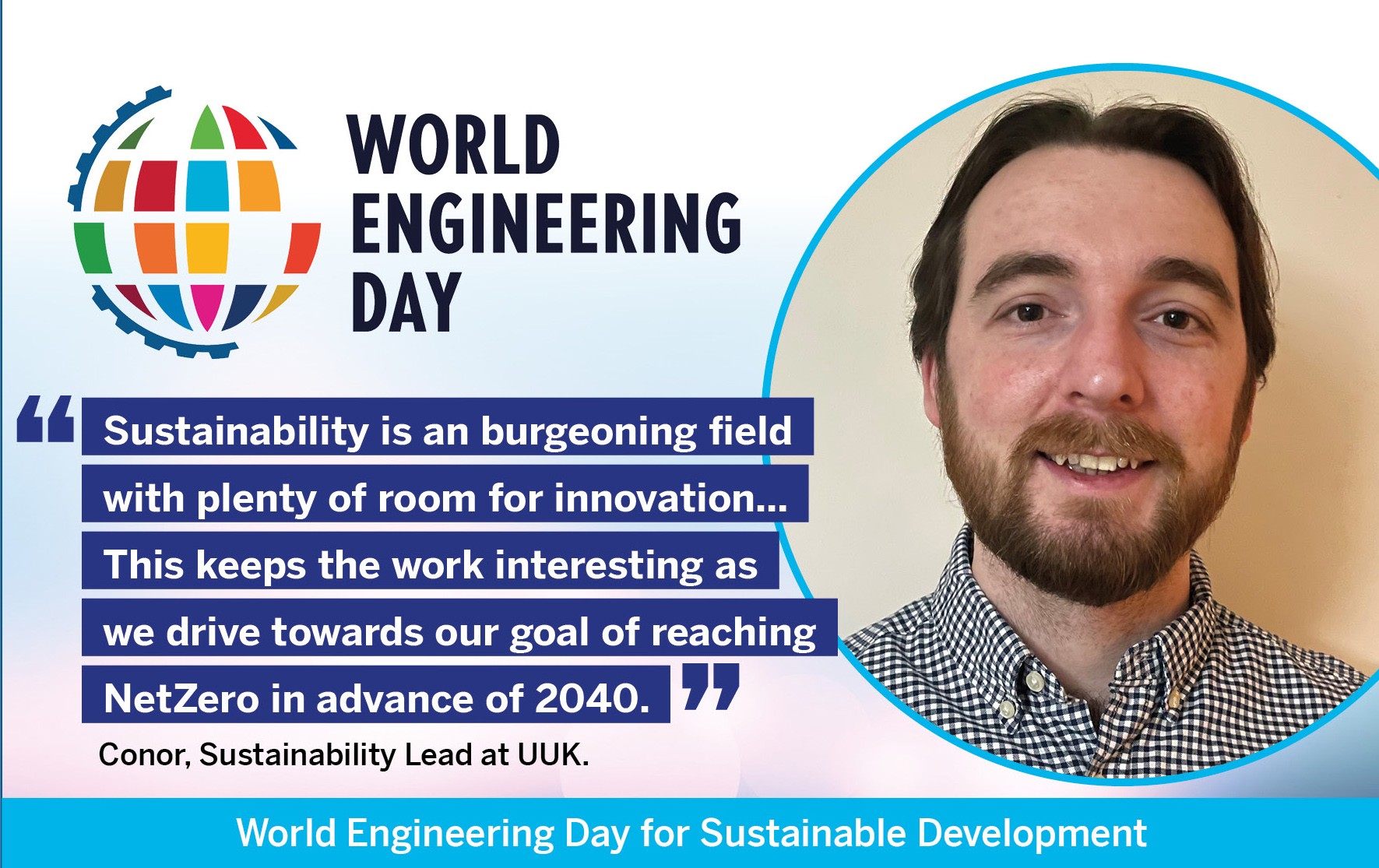 Conor is the Sustainability Lead at Urenco's Capenhurst site, UUK.
It's his job to push forward energy and carbon initiatives, and currently he's focusing on optimising and reducing the consumption of energy on site.
This can be achieved by modifying plant and other equipment to change the way they use energy.
Conor said: "The focus at the moment is upgrading inefficient emergency lights to LED, reducing energy consumption of uranium enrichment centrifuges through energy saving modes, and speed reduction of auxiliary plant equipment.
"These contribute to Urenco's aspirations of reducing its carbon footprint."
Conor was previously an engineering apprentice at Capenhurst before he became a Control, Electrical and Instrumentation technician. Whilst still at Urenco, he attended university to do an engineering degree.
His enthusiasm for engineering was initially driven by STEM subjects he'd studied at school.
With regard to his current role, Connor says: "Sustainability is an burgeoning field with plenty of room for innovation which invites and encourages fresh ideas.
"This keeps the work interesting as we drive towards our goal of reaching net zero in advance of 2040 – a significant objective that I'm glad to have a role in."
About Urenco
Urenco is an international supplier of enrichment services and fuel cycle products with sustainability at the core of its business. Operating in a pivotal area of the nuclear fuel supply chain for 50 years, Urenco facilitates zero carbon electricity generation for consumers around the world.
With its head office near London, UK, Urenco's global presence ensures diversity and security of supply for customers through enrichment facilities in Germany, the Netherlands, the UK and the USA. Using centrifuge technology designed and developed by Urenco, and through the expertise of our people, the Urenco Group provides safe, cost effective and reliable services; operating within a framework of high environmental, social and governance standards, complementing international safeguards.
Urenco is committed to continued investment in the responsible management of nuclear materials; innovation activities with clear sustainability benefits, such as nuclear medicine, industrial efficiency and research; and nurturing the next generation of scientists and engineers.